Date: 12/05/2014 | Posted by
John Garton
---
Naomi Renouf is a textile artist and painter who uses a variety of techniques to produce unique hangings and textile pictures. Naomi creates stunningly intricate pieces of work, inspired by the natural environment, particularly the beautiful coast and landscape of our island.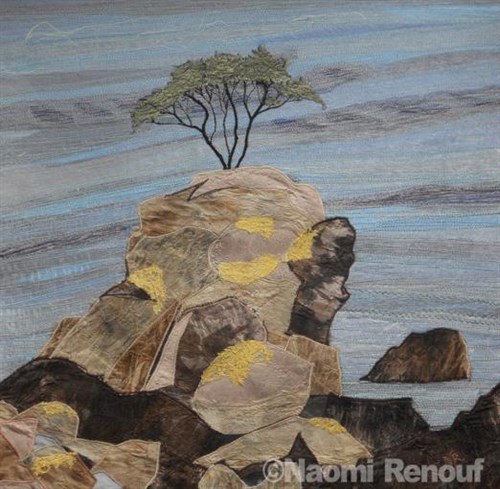 My name is Naomi Renouf, I am a textile artist and painter. I originally studied art, specialising in painting, as part of a BEd degree. Art has always been an important part of my life and I have worked in a variety of different media over the years. During 2001 I started making hand-made paper which I then painted and stitched. It was at this point that I discovered that I had a passion for working in textiles.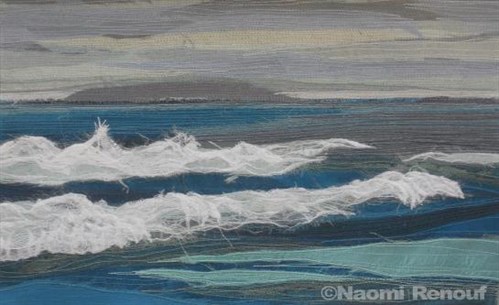 In 2002 I exhibited my work for the first time at Artisan Showcase which was organised by Art in the Frame at RJHS in Trinity. I found that people were interested in my work and it was there that I won the 'Textiles Award'; the first of a number of awards I have won for my textiles work. I have been exhibiting regularly and selling my artwork ever since.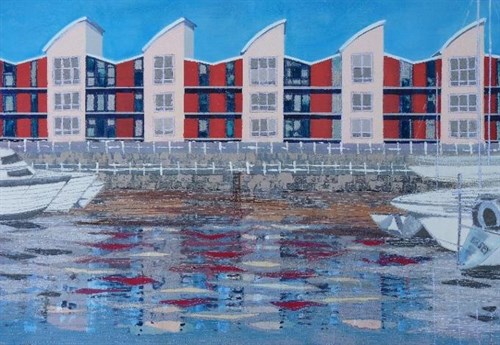 For many years I have also been working as a full-time primary teacher so my artwork has been produced in the evening, weekends and school holidays. If I am working on a project and have the luxury of a whole day I will start in the morning and work with few breaks sometimes into the evening. However more often I work in shorter bursts of time fitted in with everything else I have to do.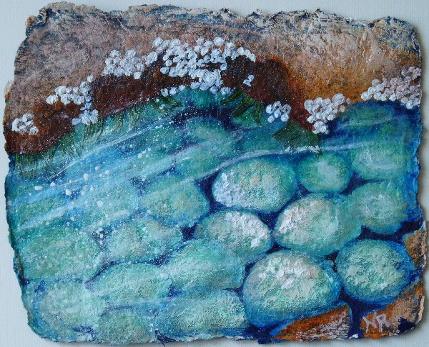 I love the natural environment and most of my work is inspired by this, in particular the coast and landscape of Jersey. I look at things and let the ideas develop in my head. I also sometimes sketch or take photographs as a reference.Once I get started on a piece it progresses partly from the ideas that I have visualised in my mind and partly from the random things that happen as part of the process. The mixture of the random and the controlled  elements mean that there is always a problem-solving aspect to producing  a finished piece, which I find interesting. I like the spontaneity of working in this way as there is rarely a totally predictable outcome.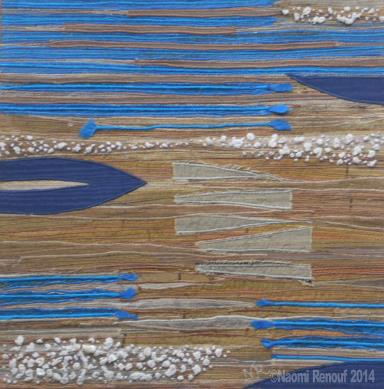 My seascapes have always been popular and I think that one of my best known images is a large hanging that was commissioned for the Atlantic Hotel in 2006 and hangs in the hotel reception area. It is certainly an artwork that has led to a lot of comment, to people visiting the Harbour Gallery to see my work and to commissions.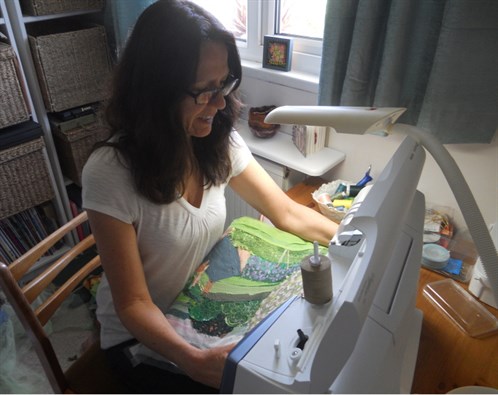 My work can be viewed at The Harbour Gallery, St Aubin or by appointment at my studio. On 28th and 29th June I will be exhibiting work at the National Trust property Bellozanne Abbey and also at my studio which is next to Bellozanne Abbey, as part of the Skipton Open Studios event.
You can see more of Naomi's work on her website: www.naomirenouf.co.uk or her Facebook page: Textile Art by Naomi Renouf.