Date: 21/04/2016 | Posted by
John Garton
---
… not just before you speak! 
With over 355 restaurants on our tiny island of just 45 square miles, we are spoilt for choice. It's slightly crazy to think that even though we are just 9 by 5 miles wide we could still eat at a different location every day for a whole year if we wanted to. So it really is true when they say the island has so much to offer!
All these eateries are essentially local and you will of course be supporting local businesses, but it's worth noting where they get their ingredients from. We are understandably dependent on supplies from other countries but just like when you shop, be conscious when you're eating out as to where your food has come from. 
Choosing genuinely local produce is key to support our own sustainability. These local businesses, growers and suppliers are what makes us unique, and embracing them is what we really ought to do, when given the choice. 
So it might not always be a case of looking for the mark before you buy, but equally looking for the mark before you try. The distinctive Genuine Jersey stamp is essentially a sign of the best the island has to offer. 
We might check where our food is from when we are doing our weekly shop but how often do we all eat out? Surprisingly it's more often than we would think and it's at these times that we should consciously be choosing local too.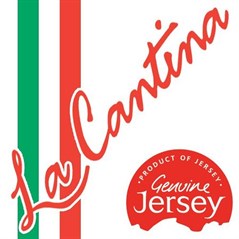 La Cantina, St Helier, is an all round Genuine Jersey member and prides itself on its position. They produce a range of Genuine Jersey pasta using fresh free-range eggs, and gnocchi using locally grown potatoes and even ravioli containing local meats or even foraged wild ingredients. There are also regularly changing specials featuring whatever is in season from locally caught seafood to Jersey-raised meats. 
El Tico, St Ouens, and Mange Tout, St Helier, are equally worth noting as they sponsor the association and use local ingredients too.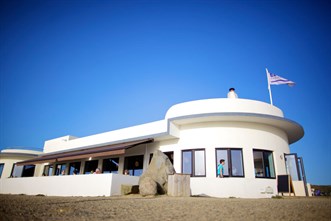 There are other restaurants who use lots of local produce but don't have an "official relationship" with the association. But keep an eye out for the logo that can appear on menus, as when you see it you'll be assured that that eatery will be using local produce wherever possible.
However, it's not just about local foods in our restaurants, some also exhibit other local wares, promoting our islands offerings and showing the talent we have. 
At The Salty Dog, St Aubin, you'll see a selection of art on the walls from Genuine Jersey members Jools Holt and Sunshine Designs.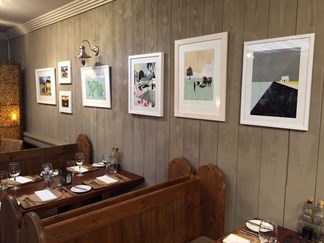 And also at the Portelet Bay Cafe, where the furniture was made by Genuine Jersey member Pedz Padidar of Jersey Organic Yurts and their crockery was handmade by Genuine Jersey member Andrew Sinclair of Sinclair Ceramics.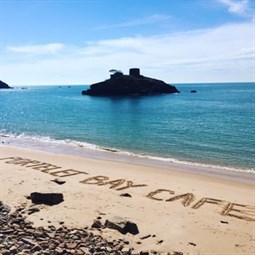 So reap what we sow and enjoy your time out of your own kitchen and make the most of whats on offer in abundance all over the island of Jersey. Cheers to that!