Date: 09/02/2016 | Posted by
John Garton
---
It's Pancake Day and Liberation Brewery have the perfect antidote to the miserable weather. Why not create your very own Bancakes (Beer Pancakes)! This year, Liberation Group are making Pancake Day all about the grown-ups, by providing a recipe for their very own Liberation Ale pancake batter.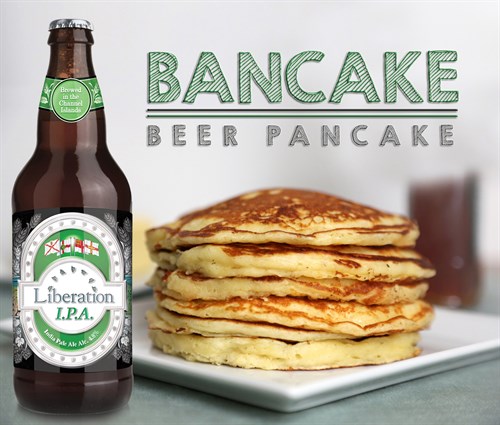 Bancake Recipe 
150g Plain Flour
4 tbsp Sugar  
¾ tsp Baking Powder
½ tsp Salt 
250ml Liberation Ale I.P.A
50g Melted Jersey Butter
1 Local Free Range Egg
Method
Mix the flour, sugar, baking powder and salt together in a bowl.
Whisk the beer and egg together and slowly add to the flour mix.
Lastly, add the melted butter and leave to rest for at least 1 hour. For best results, prepare the day before and store in the fridge.
Cooking: Heat a heavy based frying pan and add a little oil or butter. When hot, drop a large spoonful of mixture in and cook till brown. Then continue on the flip side.
Serving Suggestions
Dust with icing sugar.
You could always add some Chai seeds to the mix before cooking and omit the egg and butter for a dairy free version.
Add caramelized apples with calvados or, for a non-alcoholic option, add rhubarb compote, as it is just coming into season, with some Classic Herd Crème Fraiche.
For a savoury, breakfast option, add some pan-fried mushrooms, Jersey Sausages and poached eggs.