Date: 25/05/2017 | Posted by
John Garton
---
The results are in for the 11th Genuine Jersey Royal Potato Growing Competition. The Challenge is to see who can grow the heaviest crop and highest yield of the Island's world-renowned potato. Schools also get to learn about the health-giving properties of a balanced diet based on fresh local produce when it is at its seasonal best.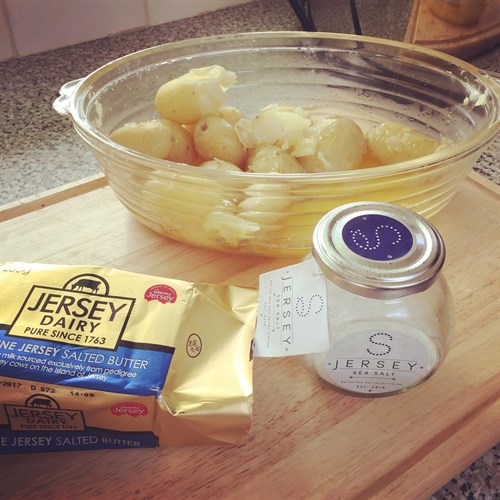 School Competition:
Bel Royal Nursery School won the heaviest crop award, with 1.7kg of potatoes.
St Martin's Reception were runners-up with 1.393kg
D'Auvergne School Gardening Club 3WA won most tubers grown competition with 50 potatoes.
St Luke's School Year 2 were runners-up with 49 potatoes.
With all schools entering multiple buckets, new awards were introduced this year for the best averages. The best average weight per bucket went to St Lawrence (1.009kg) followed by Bel Royal (971g).
The highest average number of potatoes went to Victoria College Prep (36) followed by St Peters School (35).
Constables Competition:
St Mary Constable Juliette Gallichan grew the heaviest crop of potatoes at 1696.2g
St Lawrence Constable Deidre Mezbourian was the runner up with 1518g
St Lawrence Constable Deidre Mezbourian also won the most potatoes grown with 43
Runner up was St Martin Constable  Michel Le Troquer  with 42 potatoes
Women's Institute Competition:
Heaviest crop of potatoes was grown by Sheila of the Trinity WI (1604.9g)
Runner up was Greve d'Azette WI (1449g) 
Most potatoes grown went to St Clement WI with 46 potatoes
Runner up was St Aubin and St Peter WI with 42 potatoes grown by Norma.
Media Competition:
Gallery Magazine grew the heaviest crop of potatoes (1406.9g)
Runners up Bailiwick Express grew 1097.3g of potatoes
Most potatoes grown was won by ITV Channel with 43 potatoes
Runners up were Gallery Magazine with 36 potatoes.
Age Concern Jersey joined forces to grow an impressive 217 potatoes in their 6 buckets with a total weight of 4,726.8g
John Garton, Chief Executive of Genuine Jersey, said the competition has once again been a great success. "It is always fun but there is a serious side in that it teaches us all - especially the children - about the importance of our principal crop. We may buy our Royals from a supermarket or roadside stall but a huge amount of effort goes into growing them."
In addition to the main sponsors the Co-Op, the competition is supported by Belles Fleurs Garden Consultancy & Plant Supply and The Jersey Royal Company.