Date: 30/06/2014 | Posted by
John Garton
---
Clara Barthorp is a Jersey based florist who operates a bespoke service from her workroom in Trinity. Whether you need flowers for a quiet gift to a loved one, a loud celebratory extravaganza or an intimate personal gathering, Clara can help to create the right mood with her arrangements. This is Clara's story, charting her early love of flowers to the creation of her business, Wilde Thyme.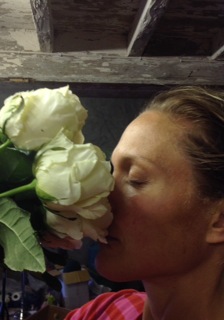 It could be said I am living my dream. Floristry is something I have wanted to do for many, many years. At 11 years old I was going off to flower arranging classes at school, but on leaving school the plan was career, and not wasting a great education on the arts. My mother has been one of my biggest inspirations and growing up in the 70s ours was always a house full of parties, and the gorgeous garden fed the many arrangements she produced to decorate our home. I spent years, and hour upon hour, trawling round all the florist shops in London, inhaling the wonderful fragrances, longing and wishing I could work in them.Through my background of Interior Design in London and in Jersey, I kept wandering back to flowers whether painting them or plonking them together for events and parties for other people, not really knowing what I was doing but working with an instinct for colour combination.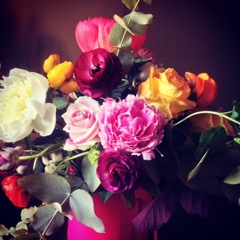 In february 2013 I made a decision, it was now or never. I did my research then tipped all my savings into new company, Wilde Thyme. I booked a brilliant flower design and business course in the UK. While waiting for the course to start, I spent seven months doing my day job, and began creating my business model and designing my brand. Luckily it was fairly straight forward as I had firm ideas in my head about what I wanted to achieve.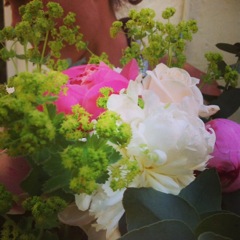 The course start date came all too quickly and I farmed my three girls out to various supportive and brilliant family and friends and commuted back and forth to the UK. I quickly noticed that we were never shown what to do, unless it was a specific technique, or a business class, but given mountains of flowers and allowed to let our own style and creativity fly and develop. It was a time warp bubble of loveliness, creating in a safe 'school' environment. Once the course was over, the challenges of setting up and running a new florist business in the island really began!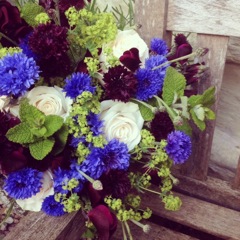 I am lucky to be able to work from home. My children see many aspects of working life and I hope they understand that running their own business is as rewarding as it is challenging, and that dreams are there to be followed and chased. It would be wonderful to have a business in a few years time where school leavers may like to do work experience. If not in a creative role, then learning the different elements of business life, from book keeping to PR and marketing, to web management and ordering supplies.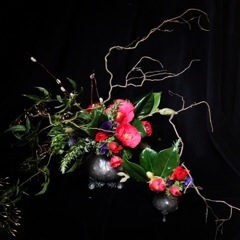 A typical day begins very early for me, either paper work, sorting orders out, going to the Covent Garden Market if I am in London, or going to local suppliers and growers here in Jersey and collecting armfuls of fresh bounty. The utter joy of coming home while children are still asleep, with local flowers and produce is un-describable. To see the fields and land which have been toiled with love and dedication and get to know local growers and discuss what will be happening next week, next month, is wonderful and fuels the farming heritage I have. In February this year I was discussing flower colours and varieties I would like to be grown for a specific bride whose wedding is in August and now slowly, mid June, I can see green shoots appearing and her bouquet will be made from local produce that has travelled no more then a couple of miles to my workshop and then on to her for her special day at Hamptonne. 
Already I have requests in for flower types and foliage for growing next year. There is, at last, a great movement in the UK to support the British Flower Grower, indeed June had British Flower Week. High end, well known, florists are right behind it supporting and using British Flowers where possible and why not? It is essential to our own economy to give back to our people and our land, and on a green and eco note keep the travel miles down and ultimately the costs. I am a firm and resolute supporter of this movement, and living in Jersey means I can use Genuine Jersey produce, reap the benefits, and enjoy the emotional delight of watching closely the very things I love working with, growing. I was thrilled to be invited to be a Genuine Jersey Member and I hope I can continue to work closely with growers and farmers over here -  sharing, selling, promoting and, where possible, working with their beautiful flowers and foliage. The Winter months are harder as we are governed by the weather, but Spring through to Autumn is a florist's delight over here.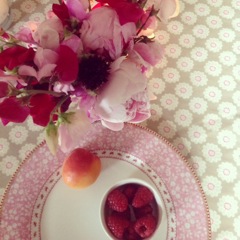 Wilde Thyme delights in delivering a unique floral and decorative experience to Jersey, from a simple hand tie to a complete wedding and event service, be it private or corporate, and if it is possible to use flowers and roses from a wonderfully abundant garden, fabulous!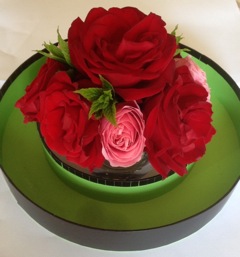 Wilde Thyme orders can be made via telephone 07797 759331  and a visit to the website www.wildethyme.com will show examples of work as will the Wilde Thyme Facebook page: https://www.facebook.com/Ourwildethymes
We can be followed on Twitter https://twitter.com/mywildethymes  
and Instagram http://instagram.com/mywildethymes 
Wilde Thyme can also be found on www.Anina.je