Date: 09/05/2016 | Posted by
John Garton
---
New Genuine Jersey member Ross Lake is the creator of Lakey's Originals, a small hot chilli sauce company handcrafting sauces, relishes and marinades with chilli kick.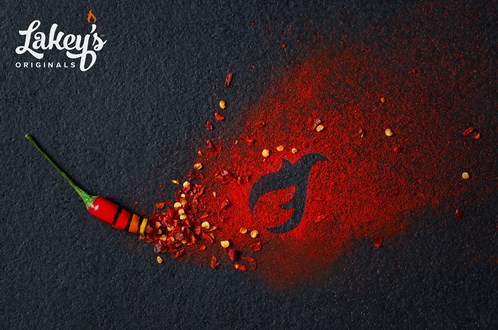 Ross began experimenting with "weird and wonderful" fresh ingredients from an early age, this developed into a passion for spicy food. Fascinated with international food culture, Ross began mixing recipes from around the world, and experimenting with cooking methods, to create new concoctions until he created a selection of sauces that he wanted to share with others. Ross' sauces became popular with friends, family and work colleagues, so he decided to start a business "so everyone could have a taste of what I'm cooking."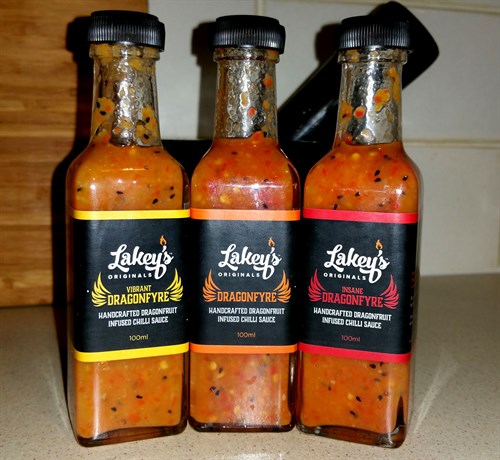 Dragonfyre is the first exotic fruit infusion from Lakey's Originals. It is a hot chilli sauce infused with Dragonfruit and comes in three levels of heat: Vibrant, Original and Insane.
Ross decided to join the Genuine Jersey Products Association as he feels strongly about supporting local growers and producers, and using locally sourced ingredients in his sauces, he says that he wants "everyone who enjoys my craft sauces to know that I support local."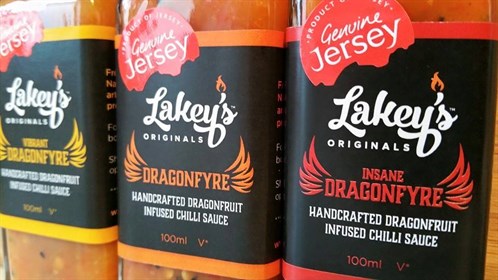 You can find Ross selling his sauces at Islands Farm and Craft Markets throughout the summer, keep up to date with events by following "Lakey's Originals" on Facebook. Also, keep an eye out for the Lakey's Original website which will be launching soon: lakeys-originals.com