Date: 31/03/2014 | Posted by
John Garton
---
Helena Mundy is a Textile Artist and new member of Genuine Jersey. Helena's fascination with both body art and microscopic cells is reflected in her textile and mixed media work, here she tells us a bit more about her developing career.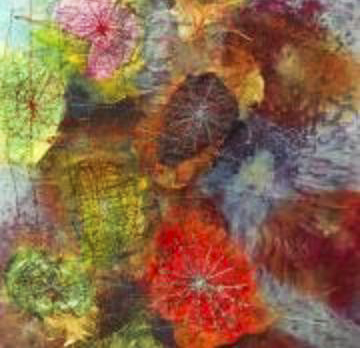 My name is Helena Mundy, I'm a housewife and mother with a passion for textiles.  When my youngest son started school I decided to review my career and enrolled in the Foundation Certificate course at Highlands College. Here I rediscovered my passion for textiles and sewing. Five years on, in 2013, I graduated with a Foundation degree in Art and Design.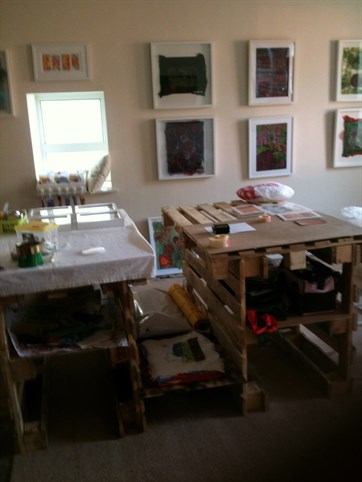 I have recently set up my own studio in St Helier to work from, alongside three other artists. I wanted to be surrounded with like-minded people to inspire and be inspired. 
My daily routine starts the same way as many mothers: school run, dog walk and housework. Midmorning, I go to my studio to work and create until school pickup. Outside the studio, life takes over so my time at the studio is precious, it is my time and I love to be creative.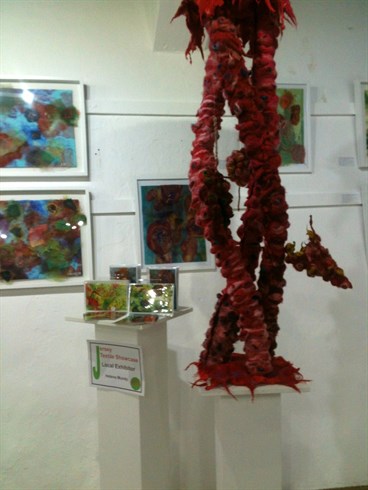 My passion is textiles and pushing their boundaries. I also use paint, ink, felt and fibres in my pieces. My work is the result of studying the body and how it is used for art, like tattoos, piercings and embellishments. 
I am also inspired by looking at microscopic cells and the colours inspire me to create beautiful textile artwork. My passion for microscopic cells started at college and I feel there is a lot more to explore by looking at this subject in relation to my textile work. My current work reflects this.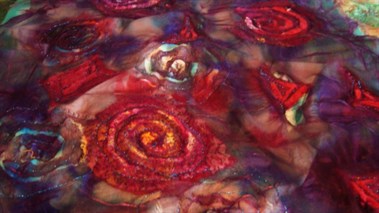 My work can be seen at The Harbour Gallery, St Aubin, where I have also taken part in the Jersey Textile Showcase for the last two years. It can also be viewed at my studio by appointment, to arrange please contact me at helena.mundy@hotmail.com
Keep up to date with Helena's work on her Facebook Page here: Helena Mundy Textile Artist