Date: 17/11/2014 | Posted by
John Garton
---
For the past three years Hans Van Oordt has been working to propagate traditional Jersey apple tree varieties and selling them. At the same time, Hans was planting his own orchard of Jersey apple varieties, which has recently begun to produce it's first crops so this season Hans has been able to launch his new pressed apple juice. Hans tells us more about his two businesses Heritage Jersey Apple Trees and Heritage Jersey Apple Press.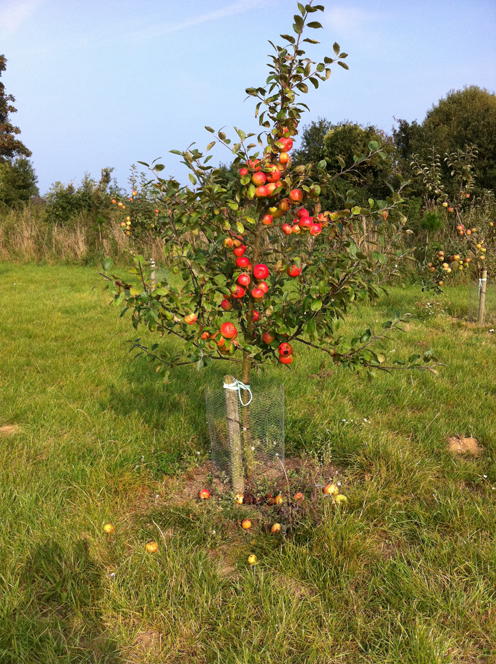 Heritage Jersey Apple Trees:
I am a garden designer by profession, over the years I have planned orchards for numerous client properties. About four years ago, I became aware that there were very few orchards with traditional Jersey apple varieties. In view of the fact that Jersey was once famed for its apples, this seemed to me to be an unfortunate state of affairs. It seemed to me that it would be a shame if we lost these ancient varieties, many of which are unique to Jersey. 
Fortunately, my interest in Jersey apple varieties coincided with the growth in the popularity of small-scale craft cider making. So three years ago, I started propagating some of the old Jersey apple varieties and selling them. There are over 40 Jersey varieties, so we haven't got round to propagating all of them yet. Most of the traditional varieties are bittersweet cider apples but there are also some fabulous eaters like Douces Dames - very sweet and juicy!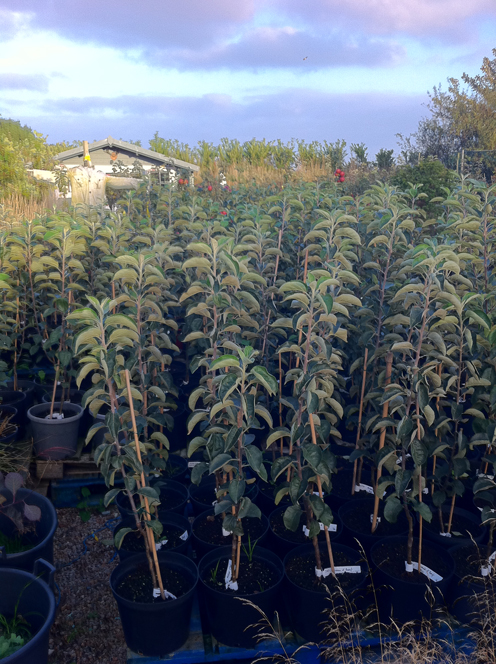 One of the joys of the traditional Jersey apples are their names; Nier Binet, Gros Romeril, Belles Filles, Tetard, Cotard, Gras Binet, Gros Pigeonnet, Museau d'Boeuf...names which hark back to a time when the island was famous for its cider...and a time when not much English was spoken!
Our trees are available from our nursery by appointment. Please call 07797 712243 to arrange a visit. For more information about traditional Jersey apple trees visit our Facebook page, Heritage Jersey Apple Trees.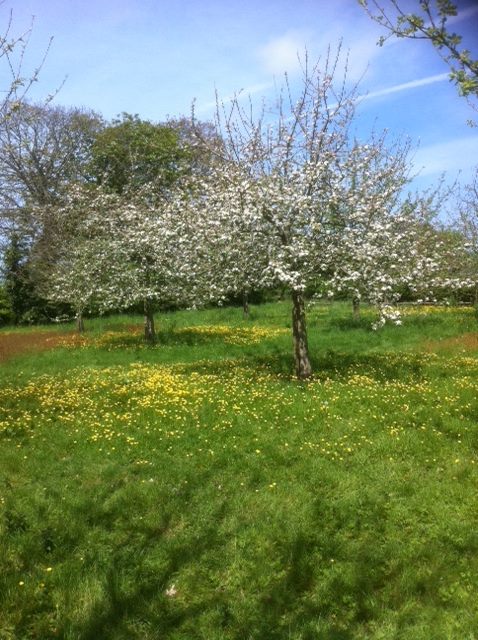 Heritage Jersey Apple Press:
Over the last four years we have been busy planting our own orchard. We currently grow over 25 varieties of apple. The orchard is slowly maturing and the trees are now beginning to produce their first crops. This season we started pressing our apples and have just launched our brand new pressed apple juice product.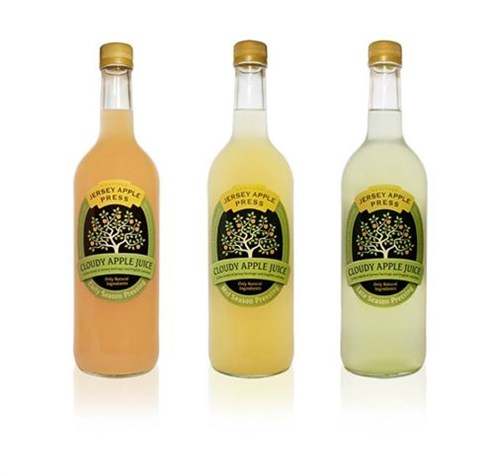 We make three types of pressed apple juice. We have an Early Season Pressing, a Mid Season Pressing and a Late Season Pressing. They are all different in taste and colour. One of the joys of apples is their variety. As the season unfolds, different apple varieties strike different notes of sweetness, acidity, flavour and aroma. We have tried to capture this and bottle it! Our juice is a blend of traditional Jersey apple varieties, as well as others, and the composition of each batch changes as the season progresses.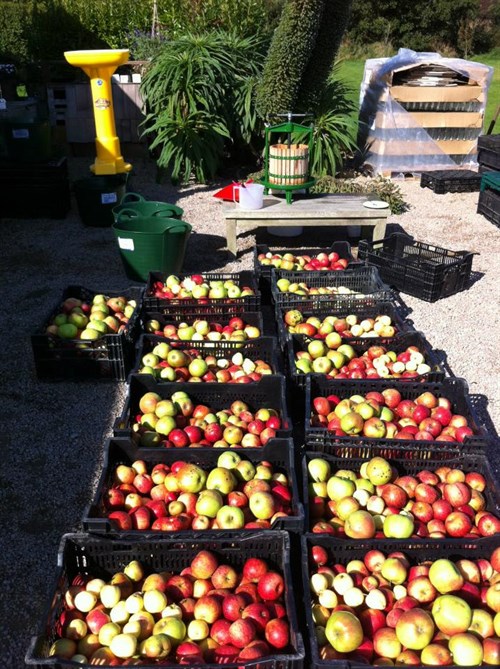 All our juice is made from squeaky clean handpicked apples. No sugar or sweetener is added. It is pure 100% pressed apple juice. The only thing we do add is some Vitamin C to stop the juice from turning brown (oxidising).
The juice is gently pasteurised so it has a shelf life of 12 months. (Keep refrigerated once opened and consume within 3 days).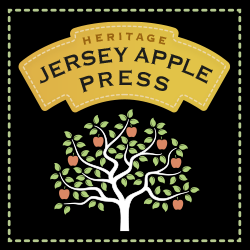 To buy our apple juice please call 07797 712243. Normal price is £3.50 per bottle (74cl). We can deliver if ordering a case of 12 bottles. £40 per case. For more information go to our Facebook page, Jersey Apple Press.