Date: 20/07/2014 | Posted by
John Garton
---
Laurence and Louise Agnès have always been passionate about the countryside and farming. The couple have been working hard to realise their dream of a smallholding on the island, and now that dream is becoming a reality. Laurence and Louise share their story of creating Douet Farm.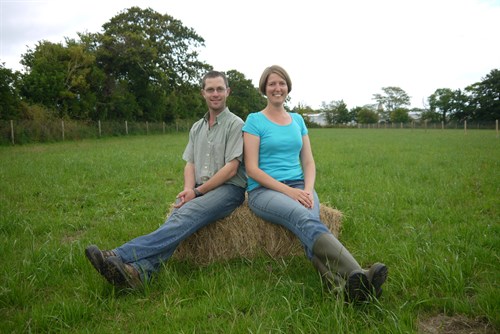 Hi – we're Laurence and Louise Agnès – a young Jersey couple with a nature-friendly farm in Trinity. We produce naturally raised, grass-fed beef and lamb for our customers. Our meat boxes are filled with delicious, succulent beef or lamb, that is butchered and wrapped, ready to cook straight away or place in the freezer. 
We were both members and past Chairmen of Jersey Young Farmers' Club in our teenage years, in fact that's where we met! We've always loved the countryside and farming has been a big part of our lives in one way or another for the last 20 years.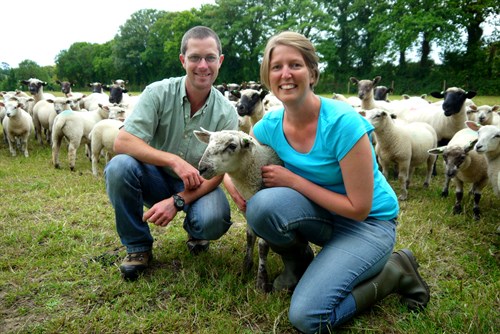 After several years of business planning and penny saving, we were lucky enough to buy the perfect fields for us, and so in March 2012 - Douet Farm was born! We spent the first year preparing the fields for livestock: putting up fencing, installing our solar powered electricity, building a small field shelter etc. Our first cows arrived a year after we bought the land, swiftly followed by some sheep, and suddenly our dream was a reality!
Douet Farm is our passion and it is also our hobby. We both have full-time day jobs, which means a lot of late nights and early mornings, doing what we love. Jobs at the farm include moving the livestock on to fresh grass and giving them fresh water every day. Of course there's plenty more to be done throughout the year like shearing the sheep, making hay for the winter from the summer grass, trimming the cow's hooves and much more. Then in spring comes all the fun that lambing and calving has to offer!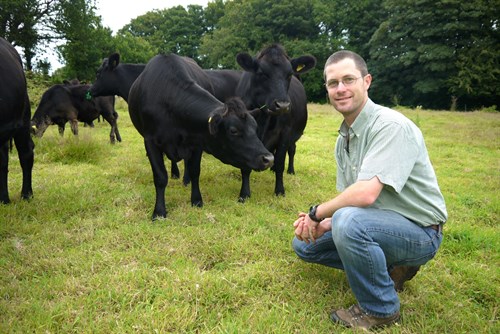 We are passionate about natural farming and strongly believe in the importance of working with nature, rather than against it. All our cows and sheep are entirely grass-fed and they are raised as nature would have intended. This in turn, creates delicious, succulent beef and lamb for our customers. This is the first year we have lamb available for the general public and we have lots of very excited customers lined up ready to try it. Customers who bought our beef last year, have told us it's delicious.
Our lamb boxes will be ready in late August/September and contain 'half a lamb', all butchered into meal size portions and vacuum packed ready for the freezer. The amount of freezer space required for one of these is about the same as three loaves of bread. Our beef boxes will be available later in the year. To place your order for beef or lamb boxes, please contact Louise on hello@douetfarm.com or 856200. You can keep up to date with the latest Douet Farm information on their facebook page here: Douet Farm or visit their web page www.douetfarm.com.