Date: 19/01/2015 | Posted by
John Garton
---
Andrew Sinclair is a potter based in St Ouen, his handmade pots are thrown on the wheel, with larger pieces being built with slabs of clay. Andrew has exhibited at the Skipton Open Studio event over the last two years, and shown work at The Harbour Gallery in St Aubin. Pieces of Andrew's work are also for sale at Big Vern's in St Ouen and much of the hand made tableware in Big Vern's cafe will have been made in Andrew's studio. Andrew told us a bit more about his journey from teacher to studio potter: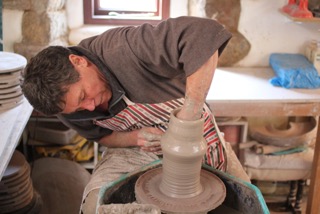 Pottery grabbed my interest when I was small lad at school and this led to a two year course in Studio Pottery at Edinburgh Art College under the direction of two practicing potters Katie Horseman and Dave Cohen. I had planned to set up as a studio potter in those days, but decided to take a more cautious approach to life and went on to a teacher training college. Forty two years later I have just started my own Studio Pottery!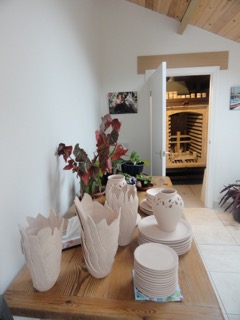 Teaching didn't allow a great deal of time to create for myself, but now having moved into retirement hopefully I will be able to concentrate on this hobby that has always been on the back burner.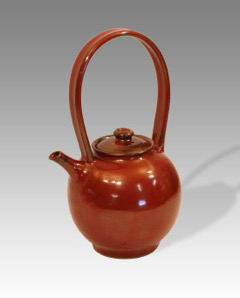 My work at the moment is based mainly on function pottery and I have been fortunate to have had several customers already asking for commissions. My last commission of a dinner service was a challenge in that I have never really had to throw so precisely and in these quantities before.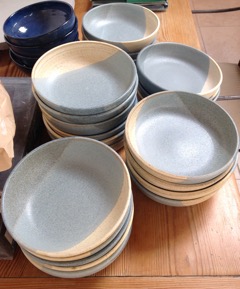 Mugs and bowls are always in demand, but after the 2013 'Down to Earth' exhibition at The Harbour Gallery, bottles of various shapes and sizes have been quite popular.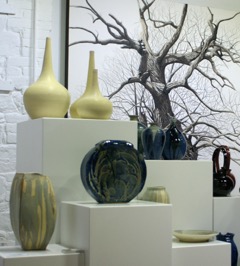 I particularly enjoy creating hand thrown teapots as each piece appears to have its own personality. Fellow potters certainly appreciate the challenge and time it takes to create these complex shapes.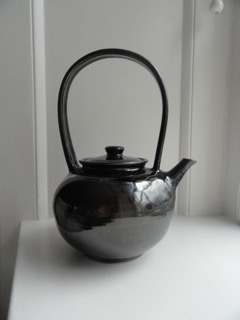 My work shop is at home in a barn behind the house. Having been involved with the Skipton Open Studios for last two years it has been great to chat with members of the public that are interested in process of handmade pottery. As I have a small display of work in Big Verns people sometimes pick up my card and then pop past to search out an occasional present.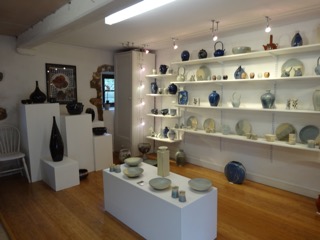 Contact Andrew to arrange to view his work by calling 07797 731 324 or emailing Sinclair[at]localdial.com