Wilde Thyme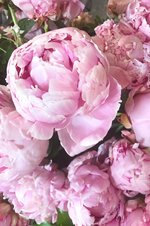 ---
Florist Clara Barthorp established Wilde Thyme in 2013, delights in bringing a unique floral design service to Jersey. Clara is passionate about creations which reflect each client's individual personality, but oozes her signature style, fusing a natural, organic, wildly lovely feel with luxurious, timeless elegance.
Where possible she is committed to using flowers and foliage grown by local growers and in promoting the Genuine Jersey product. Spring through to Autumn is a florist's delight over here. She is also keen to promote and educate about plastic free floristry in the island and advocates the floral foam free movement. (Oasis/ floral foam is a toxic non biodegradable plastic often used in floristry.)

She works from a studio in her garden, in Trinity and workshops are ever popular and are held throughout the year. Head over to the website for more information.
---