Webreality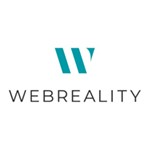 ---
Established in January 2000, Webreality is a Jersey-based and locally owned online marketing agency with extensive experience in supporting clients in a wide range of sectors with their online strategies over the long term.
Webreality can help with internet strategy development, web design, web usability, web development, e-commerce, and online marketing.

Our 150+ clients range from start-up businesses to international corporates, spanning sectors as diverse as e-commerce, finance, legal, business services, utilities, property, hospitality and non-profit.

Our business is all about providing long term support, and we're very proud of our ability to retain our clients in the ever-changing world of internet strategy.

Our team of 19 internet professionals includes designers, information architects, usability experts, software engineers and online marketing experts, giving us unrivalled breadth and substance in Jersey.
---