Twin Islands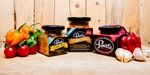 ---
Kerwin Mohun is the founder of Twin Islands Limited, the Company which makes the very hot Pimata Chilli Sauce range, the recipe which was invented by his late father, AjitRamchandar Mohun.
From Mauritius to Jersey, this is the story.

Born in a very poor family in Mauritius and being the first-born child, Kerwin was always helping his mother in the house and especially in the kitchen. That was when his interest in cooking really started.

After having worked various odd jobs in his life, Kerwin's father started work in a restaurant and he proved to be quite a talent. He learned the job from the very bottom and worked his way up to the point where he became the chef at the hotel and that was the time when he came up with the recipe for the hot chilli sauce.

His father deceased in early 2002 and by that time Kerwin had completed his secondary education and right then, he knew he would never be able to go to university. Life was getting tough and to help his mother with the rent and bills, he started work. Later that year, he received an accountancy scholarship and he would complete the ACCA qualification in two years.

From 2003 till 2007, heworked for the top audit firm in Mauritius and for an international bank.

In search of a better life, Kerwin moved to Jersey in 2007. Although working as a full time accountant, he never lost touch with his love for cooking, spices and chilli sauce.

In Jersey, the one thing which he really missed was the hot chilli sauce he was used to. Unsatisfied with the available sauces hecould buy in the shops, Kerwin set out to make his own chilli sauce, as his father would have made it.

After several trials, he finally made a sauce which was even better than what he always knew. Kerwin was so glad and proud of the sauce he made that, he started sharing it with his friends and colleagues. It was an instant hit.

The sauce is not an average chilli sauce; it is very hot, versatile and packs a lot of flavour.For the next five years, Kerwin will make the sauce and share and give it to whoever wanted more or try for the first time.

In 2012 he decided to transform what he was doing into a business. He named the company Twin Islands Limited - Twin as two sisters the Islands of Mauritius and Jersey.

The chilli sauce was branded "Pimata",a made up Mauritian word - first one "Pima" a derivative of the French word "Piment" meaning chilli and "Ta" meaning awe, in short, The Awesome Chilli Sauce.

The making of Pimata from Mauritius to Jersey has been a long and very exciting one and we hope you enjoy the chilli sauce which we love making for you.

---