Transport and Operations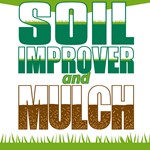 Sebastian Wieckowski
Compost & Ops Manager – Solid Waste
P O Box 412
St Helier
JE4 8UY
Telephone: 01534 448385
Email: recycle@gov.je

SHOP
---
The Transport and Technical Services Department, which is part of the States of Jersey, produces two Genuine Jersey products: a Soil Improver and a Mulch from garden cuttings and prunings.
The product is made at the department's Green Waste facility where, after a carefully controlled 16-week process, the raw material is turned into a high quality peat-free material.

This is an excellent example of using local waste to produce a valuable resource and means Jersey can reduce its reliance on importing products derived from peat.

The soil improver is available in 40 litre bags from most garden centres and some other retail outlets in Jersey.

The Soil Improver and Mulch is also available in bulk quantities (1,000 litre bags or loose) by calling Telephone 448385.

The compost process is carried out in accordance with PAS 100, the standard set by the composting association. Every batch of compost is tested in accordance with the above standard before being sold. The product is analysed by laboratories in England.
---