The Jersey Tea Company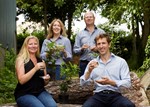 ---
A home-grown tea business, started by four friends. The Jersey Tea Company sells handcrafted organic whole leaf green and black tea that has been grown and processed all on Island.
The Company directors, Katherine and Terry Boucher, and Cardin and Michelle Pasturel are all passionate about Jersey, its landscape and preserving green land for future generations which led them to explore the possibility of organically growing tea. With day jobs as psychologists, and a chiropractor, the friendship group are also aware of the positive effects of maintaining optimal health and the benefits derived from drinking handcrafted whole leaf tea, the provenance of which is becoming increasingly important to consumers in terms of ethical and environmental growing practices.

The Company uses artisan methods of plucking and processing, and regenerative farming techniques. No pesticides, herbicides or artificial fertilisers are used, so that the tea that is in your cup is just tea! The tea is whole leaf which preserves the antioxidant benefits and flavour of the tea resulting in a smooth full-bodied flavour rather than a bitterness which is sometimes associated with green teas. These teas in particular can offer substantial health benefits, from aiding digestion to the simple mindfulness of having a hot drink.

Although the Island has a rich history of trading tea, until recently it has not been grown in Jersey. The Jersey Tea Company have had great support from Jersey Business and a local organic farm. They were also fortunate enough to have received guidance from former employees of The Overseas Trading Company and to have had their teas sampled by industry experts, all of whom have been impressed by the tones and flavour of a European, cold-climate tea.

Katherine Boucher, said: "I feel lucky to be taking on this venture with three friends, who all have different skills to bring to the Company, but whom are equally excited about the health benefits of tea and the importance of biodiversity to the island. It was a big decision for the four us to take on a new venture, alongside our professions and family life, but every time I head to the tea farm to help tend the plants and see what we have grown, I feel lucky to be involved in the development of a new local business and enjoy the peace and quiet of being out in the fields."

The Company is letting land from fellow Genuine Jersey members Jersey Hemp where 25,000 tea plants are being cultivated. The tea plants have four flushes a year, there is no need to dig up crops and disturb nutrients within the soil, therefore supporting carbon sequestration and soil regeneration.

Katherine said: "We are so lucky to have the environmental conditions in Jersey to grow good quality produce and experts have said that you can really taste the difference in the tea, having been grown so close to the sea."
---