The Jersey Catch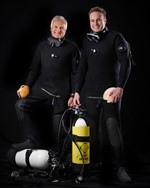 ---
This small family business provides a wide range of fresh fish, locally for you all to enjoy. At the helm of the Jersey Catch is Josh Dearing, who following on from his previous business of Jersey Hand Dived Scallops, has teamed up with his father Mike and will now be selling more shellfish and other seasonal products. This is made possible with the arrival of their new boat "Bounty" a seven metre twin engined Cheetah Cat made to their specification on the Isle of Wight.
They will continue to dive for scallops as well as introducing potting for lobster, crab, prawns and line fishing for in season fish. Their methods of fishing are the most environmentally friendly and sustainable ways of catching the product from the coastal waters around the island, they are very proud of the techniques which they use to ensure minimal damage to the sea bed and aquatic life with no by-catch which has become an issue for trawlers and dredgers alike.

Josh explained "as a business we feel that in an ever-changing world where people are more aware of where their food and where it comes from they are safe in the knowledge that our produce is caught with our own hands. With a large number of followers on social media; Facebook and Instagram we like to be able to keep in touch with all our customers and show them exactly where their shellfish comes from and how it gets to their door. The same person that picks up an Ecrehous scallop from the seabed or pulls a large dark blue lobster out of a pot in St Brelades bay then delivers it to your home, place of work or restaurant for your enjoyment. You can contact us via our Facebook page, phone or email to place an order which can then be processed and delivered to your front door."
---