Sues Fudge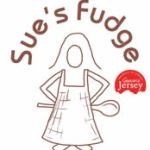 ---
Jill Holt is now the proud owner of Sue's Fudge as Sue has embarked on her next great life adventure.
Jill says, 'it was so interesting to meet Sue and find a kindred spirit. I can assure all her lovely, loyal fans that the fudge they love will still be made to the same secret recipe using our wonderful Jersey produce and definitely no preservatives or synthetic additives.'

Jill was born on her father's farm at Gros Puits in St Saviour, and from an early age learned to bake with her Mum. She has passed on her passion for baking to her daughters and now to her grandchildren as well. Growing up on the farm gave her a lifelong love for growing things and she delights in cooking with seasonal fresh produce. Her cupboards are always full of home made jams, pickles and chutneys.
Sue's Fudge will continue to produce fudge for corporate events and weddings and fly the flag for our wonderful little island with online international sales.

Sue's Fudge is available in 100g and 200g bags, as well as 300g gift boxes. These packs are available at various outlets in Jersey or from Jill's online shop. For those of you with an extremely sweet tooth Jill will also supply a 1 kilo bag.

Jill can also supply treat bags which have proved very popular as corporate gifts for occasions on-Island as well as in the UK and abroad. They also make a wonderful gift favour for your wedding guests.

Please see Jill's website for further details on her products and how to place your order, www.suesfudge.co.uk for further details.

Sue's Fudge - making Jersey a little sweeter every day.
---