Sues Fudge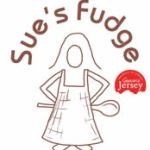 ---
Sue Le Gresley makes homemade Jersey Fudge in the traditional way, using local products. Sue uses organic butter, milk and cream from Classic Herd Dairy at Manor Farm St Peter.
After almost 20 years of making traditional Jersey fudges, Sue has built up a loyal following amongst locals and tourists.

Sue has plenty of fudge to choose from, including Vanilla, Rich Chocolate, Jersey Black Butter, Bailey's & Cream, all of which have been awarded gold stars by the Great Taste Awards on behalf of The Guild of Fine Foods. Other flavours include Ginger, Coffee, Lemon Meringue and many more. At Christmas time you will also be able to stock up on Sue's legendary Christmas Pudding Fudge..a must for your Christmas table!

Sue's fudges are made from Jersey butter, Jersey milk and/or Jersey cream (according to flavour), sugar, condensed milk and natural flavourings. She uses a closely guarded secret recipe that was passed on to her many years ago and which has been "tweaked" and experimented with ever since to obtain just the right combination of rich wholesome buttery taste together with a texture that has both lightness and bite! The fudges are cooked to a very high temperature of 240° and due to the high sugar content have a long shelf life.

Sue's Fudge is available in 100g and 200g bags and also in 300g gift boxes.

Please see Sue's website www.suesfudge.co.uk for details of her beautiful wedding and party favours.
---