Stephen JE Davies AGAvA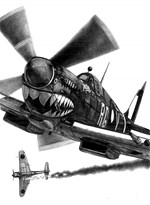 ---
I am a local Graphic Artist & Illustrator (Facilities Manager by day and Artist by night), specialising in highly detailed black and white pencil drawings in all subjects and can turn my hand to colour. My speciality is the field of aviation but my style is well developed and with 30 years experience I can illustrate anything a Client desires. My greatest accolade is being made an Associate Member of the Guild of Aviation Artists having had after 3 successful submissions in the London Mall Galleries.
From an early age I have always been fascinated by aircraft and flight, being inspired by my late father and the Airfix artworks by Roy Cross and the paintings of Michael Turner, as well as many comic book illustrations of aircraft by such artists as Ian and Cam Kennedy. Taking inspiration from these artists, I have produced a wide range of aviation works some examples of which you can see here along with some other subjects showing my versatile style.

As an artist, I try to captivate you in the hope that you will marvel at the detail of each work, from complete subjects to close ups alike, and find enjoyment from discovering something new each time you view my work. I always aspire to bring a photographic like quality to my black and white drawings.

I work from home as well as at events and art fairs and my choice of media is predominately B type graphite pencil which I find helps me to bring a high level of detail to the subject. I also work in colour pencil using primary colours and then adding black and white to bring tone and depth.

Subject matter includes animals, aviation, land and seascapes, military, transport,
cars, portraits, people, glamour and wildlife. Prints are available in all sizes with original artworks also for sale (prices range from £150.00 to £400.00) I also do commissions, with prices from £200.00 to £450.00 for black and white or colour artworks depending on subject and duration.

My work can be seen and purchased at the Jersey Post Office, Broad Street, the Harbour Gallery, St Aubin, Jersey Aero Club by the Airport, Auto Centre, St. Brelade and at Victoria Art Gallery by St. Thomas Church in St. Helier as well as at various local summer markets and art fairs.

For further information, please get in touch either through my website www.stevedaviesart.com or use the above contact details.
---