Sinclair Ceramics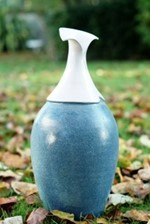 ---
Andrew has been teaching in Jersey for thirty-six years but recent retirement has given the opportunity to spend more time as a Studio Potter in the wilds of St Ouen.
His love of working in ceramics began while a young lad at school and this passion led to an invitation to complete a two year Studio Pottery course at Edinburgh Art College under the direction of two practising potters, Katie Horseman and Dave Cohen.

After art school Andrew completed a 3 year teacher training course and pursued this career for forty years before the dream of becoming a studio potter became a reality. No longer are pots on the back burner; they are now in the kiln!

Mainly based on functional, stoneware pottery, Andrew has already worked on various commissions, the last one, a 40 piece dinner service, was a welcome challenge.

Hand-thrown teapots are a particular interest. Each piece takes on a character of its own and even appears to have its own personality. Their complexity, challenge and time it takes to create these individual shapes is certainly appreciated by fellow potters.

After the 2013 'Down to Earth' exhibition at the Harbour Gallery, bottles of various shapes and sizes became popular, but mugs, jugs and bowls continue to be in demand.

The Skipton Open Studios gave an opportunity for interested members of the public to visit the workshop and see the process of handmade pottery.

Andrew also has a small display of work in Big Verns and much of the hand made tableware in the cafe will have been made in his studio in St Ouen.
---