Simon Bossy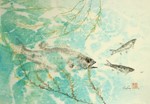 Simon Bossy
Gyotaku Artist
St Lawrence
Telephone: 01534 870030
Mobile: 07797 721780
Email: simonbossy1@gmail.com

---
Gyotaku by Simon Bossy - Simon is a qualified marine biologist and has been working in this field in the UK, France, Pacific and Jersey all of his working life. His leisure time also involves the sea and he is a keen angler, sailor and scuba diver.
Gyotaku is a form of printing and takes its name from the Japanese words 'gyo' – fish and 'taku' – rubbing. The technique was developed in Japan where fishermen used it to record their catches and it has now evolved to produce fine original prints of fish.

The fish is cleaned and covered with Japanese 'Sumi' ink. Fine paper is then pressed onto the surface of the fish and rubbed then removed carefully to produce a detailed image. Each print or rubbing taken will have slightly different features and each therefore will be an original and unique record of the fish.

Other details of the catch may also be provided on the front or the reverse of each work.

Finally it is customary for the artist to add his personal 'Hanko' stamp to the print. This is a Japanese translation of the artist's signature in the form of a square stamp and is traditionally coloured in red ink.

All of the fish used for these prints were caught in waters around Jersey and each print is unique.

Simon is continually developing this technique and attending workshops to work with other gyotaku artists.

Work maybe found on sale at The Framing Workshop, Don Street, St. Helier as well as The Harbour Gallery, St Aubin or you can contact Simon directly.
---