Sheila Birch ARPS CPAGB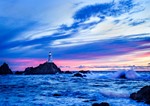 ---
Born and raised in Jersey, Sheila's love of photography was not put into serious practical use until her children were grown up. Since retiring from normal working life, when several years were spent working as a freelance portrait and wedding photographer, she has found success and enjoyment in pursuing her lifelong interest in photography.
Since then, she has gained the Royal Photographic Society's Licentiate Distinction along with the Associateship, various medals from British and European photography salons such as the Racal Medal at the 29th Algarve International in 2003, the Edward Roper Medal at Solihull in 2005 and a medal at the 2005 London Salon of Photography with 'Street Tango'.

Sheila has gained the Credit of the Photographic Alliance of Great Britain and on home turf, is a Genuine Jersey member. Sheila's work on producing images of her home environment can be found at The Harbour Gallery at St Aubin and other Island outlets. She very much enjoys meeting friends and visitors to her craft stall at the many local farmers markets and other similar events which take place on Jersey throughout the year.

To contact Sheila, please email sheilabirchimages@gmail.com.
---