Seymour Ceramics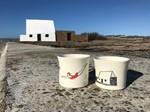 ---
Seymour Ceramics is the enterprise of Julie Pearce. Julie throws pieces on the potter's wheel, with stoneware and porcelain clays, creating unique functional and decorative items.
Julie is inspired by the sea and coast and this is often reflected in her work with many pieces having a Jersey theme.

Julie's work can be viewed on Seymour Ceramics Facebook page, on Instagram as @julie_makes_pots, on her website https://seymourceramics.bigcartel.com/ at the Harbour Gallery in St Aubin, and at Creative Cottage in St Peter.

Viewings at Julie's St. Brelade studio can be arranged by appointment.

Details of other events where pieces will be available to purchase will be advertised on Seymour Ceramics Facebook page as they come up.
---