SCOOP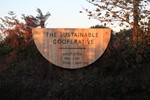 ---
The Sustainable Cooperative was formed in 2018 to create a more sustainable supply of food on the island of Jersey. We recognised the impact our choices as consumers have on the environment and wanted to have an opportunity to shop in a way that we felt comfortable with.
We now run a farm shop in St Lawrence, showcasing local organic growers, artisan producers and a range of ethical and sustainable household items, alongside an education programme with local schools and community groups, a range of cultural events, a re-use facility for glassware and plastic containers and a production kitchen that minimises waste within the supply chain, while working with government and partner organisations to create and promote more sustainable food systems.

As a sponsor of Genuine Jersey, we invest in the conditions and infrastructures required for organic and regenerative farming in Jersey to thrive. We work with farmers and growers that care for the environment, providing a stable market and fair prices for their produce. Over the past three years we have worked with over 65 local producers.

The Sustainable Cooperative is a nonprofit organisation, based on Cooperative Values and Principles. We are a member of Good Market Global, Better Food Traders, Chefs Manifesto and Plastic Free Jersey and registered as a Living Wage Employer. We actively support local charities, with fund raising initiatives and donations.

We hope that our activities will contribute to a more ecologically and environmentally sustainable island, by reducing waste, supporting responsible farming practices, protecting our natural resources and reducing our carbon footprint. We aim to make caring for the environment an integral and habitual part of our every-day lives, while raising awareness towards the environmental impact of our supply chains.
---