Sarah Baudet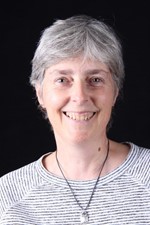 ---
Designs and makes artefacts and sculptures using copper wire, copper sheet, aluminium and wood.
About me: I always enjoyed art at school but instead of taking my interest forward, after A Levels I joined a trust company and became a part of the finance industry. I stayed with the company for 34 years and was then made redundant at the end of 2016.

This was just the push I needed to take up my interest in art once again and I enrolled at Highlands College, on the Foundation Certificate in Art and Design one year course, in September 2017. It was a revelation, the course provided me with a wide range of new techniques and more importantly, the impetus to think I could have a go and create art.

The course also showed me that whilst I enjoyed drawing, painting and photography, I enjoyed making things more, whether in wood, paper or metal and therefore with the leftover copper sheet and wire I had remaining from the course, I started to make objects in my garage.

My first pieces were flowers made from copper wire which I put either in a flower pot or on a piece of wood. Ideal for those people without green fingers, they only need a light dust now and again!

I then went on to create my mushrooms, these are my favourite item to make, each one will be unique. When the copper is heated, you have no idea what colour it will go. The mushrooms, when placed on a piece of wood, look very organic.

My pieces are slowly evolving as I am constantly learning. My experience so far has shown me that you have to have a challenge, you have to try with something you really enjoy and see what can be achieved. I have been lucky and am very grateful to many people for taking the time to give me advice and help me along the way.

My work can be found at the Harbour Gallery in St Aubin and images of any new pieces I create are posted on Facebook and Instagram.

At present I am only able to deliver to addresses in Jersey but this may change in the future.

If you wish to contact me then you can email or message me on Facebook.
---