Rozel Farms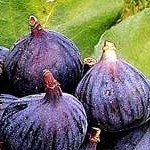 Trevor Renouf
Le Gros Rocher
Grande Route de Rozel
St Martin
Jersey
JE3 6AY
Mobile: 07797719101
Email: trevorwrenouf@gmail.com

---
Trevor Renouf began looking at growing alternative crops many years ago, to take advantage of Jersey's southerly position and its fertile soil. He decided to invest in figs and revive an old Jersey tradition after undertaking research which showed that it in the 19th century it was common to have at least one fig tree in or near to the farmyard.
Figs are very healthy, containing one of the highest levels of vitamin B of all fruit and are very high in fibre.

The majority of figs available in the shops are imported from thousands of miles away which can cause two problems:

Figs have a shelf life of only about three to four days after having been picked. In order to increase their shelf life, growers harvest the fruit some time before they are ripe and as a result, the taste and nutritional benefits are reduced.

Bringing food from up to 6,000 miles away is not beneficial to the environment, and goes against consumers concerns about 'food miles'.

Kiwis are an equally healthy product grown by Mr Renouf. The fruit contains more vitamin C (per 100g) than oranges. He grows traditional varieties as well as kiwis which have a soft skin making the whole fruit edible (suitable for lunch boxes).

Currently only enough kiwis are produced to supply the family, but as production increases he hopes to sell them at the farm gate. Farm shops and some restaurants have also expressed an interest.

Fruit trees are a long-term investment and although they are in their infancy, he believes Genuine Jersey is at the forefront of promoting local products which can benefit Jersey's economy and environment.
---