Potage Farm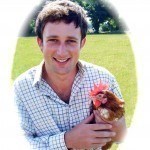 ---
Hello, my name is Laurent Coenen and I am a young Jersey farmer, I have my own land down the country lanes in St Lawrence. I have always been interested in farming, continuing in the footsteps of my grandparents, Bill and Sheila Staite, who farmed at Oak Farm.
I studied for my degree in Agriculture and Land Management at Hartpury College, Gloucestershire, where I was Student of the Year in my final year. I am keen to continue the farming tradition in the Island and hope that you will support me and your island's future.

I believe we must look after our environment for future generations. I run my farm on renewable energy and am continuing to make environmental improvements by planting trees and renewing hedgerows etc.

My hens are free to roam and forage on green pastures from dawn to dusk, leading a natural and happy life. My free range eggs are produced to the highest standards. Quality control, hygiene, traceability and bird welfare are paramount. This ensures that not only are my eggs of the highest quality, but also the welfare of my hens far exceeds that required by law. Their natural outdoor diet is supplemented by a specially formulated wheat based, soya for protein, vitamins and minerals feed. The eggs are collected daily and packed on my farm, ensuring they reach you in tip top condition.

I hope you enjoy them and encourage others to do so!

Bulk orders welcome, please contact me.
---