Peter Le Cuirot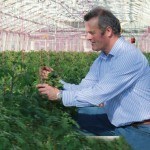 Peter Le Curiot
La Profonde Arene
Les Fonds de Longueville
Grouville
JE3 9AB
Telephone: 01534 851347
Mobile: 07797 763 275
Email: wasteoil@the-fastest.net

---
Peter Le Cuirot has been growing indoor tomatoes since 1973, which is quite an achievement in an industry which has suffered more than its share of hard knocks.
It is because of the lead Jersey took in introducing natural growing processes and controls in the heyday of the indoor tomato industry in the 1980s - and thereby eradicating the use of pesticides - that makes Peter's tomatoes so sought after.

The tomato varieties he grows are Carousel a classic loose round, Conchita a round cherry on the vine and Sunstream a baby plum on the vine. All have outstanding taste, quality and shelf life.

Highlights of his career include the times in 2010 and 2013 when, jointly with UK grower Eric Wall, he was named Outstanding Quality Supplier in the Sainsbury Supplier Awards, beating producers from around the world. Another time was in 2012 when he sent a tray of his tomatoes to Prince Charles where they were served up at St James' Palace. Peter received a personal letter from Prince Charles thanking him for the gift and reminding him of an incredibly happy visit he and his wife had enjoyed to the Channel Islands earlier that year.

The tomatoes produced each year by Peter are sold locally to wholesalers, hotels and selected food outlets including The Fresh Fish Company at La Collette, Falles Service Station on Longueville Road and Davis Bros at Georgetown. They are also available directly from his nursery in Grouville.

Peter understands the importance of local provenance and the tomatoes' journey from his glasshouses can be tracked as part of the nursery's traceability policy. This is just one of the nursery's extensive manual of policies and procedures that are in place to ensure food safety and also to ensure that the crop continues to receive Red Tractor Assured Produce certification each year. Freshness is also very important and the fruit is harvested early in the morning and delivered within a few hours.

Although the indoor season runs from March to November Peter is busy all year round, starting with sowing a crop in October to final harvest twelve months later. Peter employs the assistance of friendly bugs to control the tomato's enemies in the insect world, such as white fly and leaf hopper. If he has to resort to man-made remedies he uses organic-sanctioned products or nothing stronger than a soap spray made from washing up liquid.

In fact Peter's nursery could not be greener. The growing bags are recycled on local allotments and even the oil used to heat the glasshouses is waste oil that he processes for re-use.
---