Paul Houzé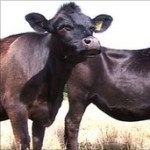 ---
Dairy farmer Paul Houzé is at the vanguard of the most momentous diversification in the proud history of the world-famous Jersey Cow.
In 2008, strict measures designed to protect the pedigree status of the Jersey at home were relaxed to allow the Island herd – which was in danger of becoming an inferior breed - to be inseminated with semen from purebred bulls worldwide.

In such a short time the benefits of importing pedigree Jersey genetics are already evident in more productive and healthier cows. However, it is not just the Jersey and its milk production that has improved – a new offshoot of the dairy industry has emerged in Jersey-Angus beef.

Paul is one of a handful of dairy farmers who have diversified so far by inseminating the more inferior cows that would have previously been slaughtered with imported Aberdeen Angus semen. The result has been black cattle to make Islanders look twice and beef that has taken local foodies by storm.

The meat has the finest delicate flavour of a Jersey's but with a bigger size of cut. The Aberdeen Angus was carefully selected for crossing with the Jersey because of the quality of its meat and as it was judged to be the best match for breeding purposes. To protect the sacrosanct pedigree of the Island herd, all Jersey-Angus bull claves are castrated.

Paul is the third generation to farm Lodge Farm in rural St Saviour. His herd of 220 milking cows, which produce 1.1 million litres a year, is one of the 24 dairy herds in Jersey.
---