Paul Darroch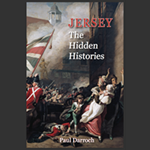 ---
Paul Darroch is a writer who specialises in bringing Jersey's rich and colourful past to life.
His first book, Jersey: The Hidden Histories, was published by Seaflower in 2015 and the electronic version, which qualifies for the Genuine Jersey mark, is available through the website link above.

"Would you like to take a colourful, break-neck gallop through the rich history of our community? If that sounds like an attractive prospect, then Jersey: The Hidden Histories could be the book for you". (JERSEY EVENING POST)

"The book is well written, expertly researched and interesting to read". (HISTORICAL NOVEL SOCIETY)


Publisher's Synopsis:

Panoramic in scope, Jersey: The Hidden Histories is a spellbinding journey into the life and times of this entrancing Island. It is painted on a canvas that stretches from the primeval hunters crossing the tundra to the arrival of the first aeroplane in the magical summer of 1912, on the eve of the Great War.

Imaginative and vibrant, this is history seen through the eyes of those who witnessed it; an unknown Charlie Chaplin exploding onto the stage of the Jersey Opera House; Queen Victoria travelling to Gorey Castle in the sultry September heat; Sir Walter Raleigh strutting into the States Chamber. This is the story of Karl Marx supping in St Helier; the fugitive King Charles II seeking sanctuary in the Town Church, and Lillie Langtry treading the boards in her prime.

Jersey: The Hidden Histories is the biography of an Island perched on the frontier between clashing kingdoms, brimming with a rich cast of iconic characters. Paul Darroch brings history vividly to life, as the narrative sweeps from the green parishes of home to the distant shores where a New Jersey would be born.
---