Meleches Farms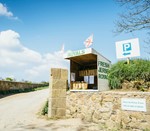 ---
Mourant Farms (trading as Meleches Farms) is the island's largest independent grower of Jersey Royal potatoes, owned and run by fifth generation farmer, Nick Mourant.
The Mourant family can trace their Jersey farming roots back to the 16th century. We are passionate about our seasonal product, Jersey's agricultural heritage and the natural environment.

We care about the soil and use biofumigation techniques to harness the natural chemical agents of plants to suppress weeds, fungal pathogens and insects, to reduce the usage of pesticides and fertilisers for the benefit of the business and the environment.

Jersey Royal potatoes have been grown on the island for over 130 years and were one of the first British products to receive the PDO designation protected status.

We are proud of our diverse workforce who hand plant and lift the premium potatoes ready to be enjoyed on the island and throughout the UK.

You can find Mourant Farms' delicious Jersey Royals in UK supermarkets or buy them direct from our roadside honesty boxes in Jersey from April – July. Our honesty boxes are on Trinity Hill near Oaklands Lodge, on St.John's road near La Casa furniture shop (the old B&Q site) and on La Grande Route de St. Laurent opposite Regal Construction.
---