Maillards Funeral Directors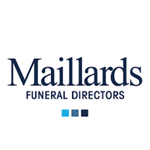 ---
We are Jersey's only family owned fully independent funeral directors, established in 1928. Our aim is to provide a quality bespoke funeral service in a caring and dignified manner, whilst respecting all faiths and traditions. Our experienced, professional staff are on hand to offer advice, guidance and support throughout the difficult time of arranging a loved one's funeral.
We pride ourselves on the exceptional level of care we offer our clients which is achieved through our attention to detail and the desire to serve each and every family with our time, dedication and empathy.

It is a rare privilege to be a funeral director, to stand in a sensitive position alongside you and your family, knowing that the quality of our service and reputation will help you through this time.

At Maillards we have our "Lasting Wishes" and "Funeral Plans":
Lasting Wishes, this is basically putting your wishes down on paper. It takes about 15 minutes and we will give you two copies, one for you to keep and one that you can give to your solicitor, family member or friend. This allows you to have the send off that you want and has the benefit of keeping control of the costs.

Once you have completed your Lasting Wishes form, we will give you an indicative quote of how much your funeral would cost at this moment in time. This will give you an idea of how much you need to put to one side. If you so wish, you can pay us in full or monthly instalments towards your send off.

Maillards can now offer you four funeral plans. There are a range of prices and formats and each one details what is available in each plan. There is always the option of a bespoke funeral, tailored to your specific requirements. You can pre-pay for your funeral which gives you and your family peace of mind as we guarantee to freeze the costs of your chosen funeral once payment has been received. Regretfully we cannot guarantee the costs regarding disbursements as these are payments to third parties and are out of our control.

Being Jersey's only family owned fully independent funeral directors and a genuinely Jersey business we are very proud to now become sponsors and to support the excellent work that is done by Genuine Jersey.


---