MADD Beard Co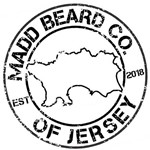 ---
As men of the bearded variety, one day we were discussing the pros and cons of the range of beard grooming products currently available, more importantly the products available on island.
We felt that they were either too greasy, not a very nice scent or were made up of synthetic oils…the list goes on. What started off as an idea to create our own beard oils using only natural base oils and addressing all of our concerns mentioned above soon started to gain traction as friends of ours started asking about our oils and wanted to try them for themselves. After much more testing on ourselves we decided that the product was ready and that is where MADD Beard Co. of Jersey came to life.

All of our beard and moustache care products are made in-house, in small batches by hand using only the finest ingredients. Where possible, we try to source ingredients locally, and as such, Hemp oil features quite heavily. All of our products are organic, vegan friendly and have recyclable/reusable containers and packaging.

We wanted to stay true to Jersey and have tied each range to the island, for instance, Sand Dune has the scent of gorse flower which can be found on the dunes as well as over the north coast cliff paths, St Clement is a bit of a play on the parish name and has a citrus scent such as it's namesake cocktail.

Currently our product range contains beard oils for conditioning the beard and keeping the skin hydrated. Our beard balm helps to further condition the beard and also offers a certain amount of hold to keep things in check. Finally, our latest product, moustache wax, gives excellent hold for the times you want to pull off the old handlebar look.

The road ahead is going to be exciting and we're always keeping an eye out for our next Jersey inspired creation.

Our products can be purchased online via our website (www.maddbeardco.je) and Harriet & Rose (www.harrietandrose.co.uk), in store from Tib Street clothing in St Helier and Madhatter Surf shop in St Brelade.
---