Les Herbes de St Pierre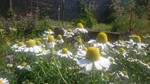 ---
Les Herbes de St. Pierre is a range of deliciously scented dried herbs and herbal teas grown, hand picked and dried in Jersey at Belmont farm in the Parish of St Peter.
Herbal teas: Soothing chamomile, cooling mints, delicately scented lemon verbena, cleansing fennel and wild rose hip are part of a growing selection of natural, delicately scented herbal teas available.
Our herbs are picked when they are at their peak and the drying process used ensures maximum retention of precious essential oils and bioactive substances to preserve their numerous, well-known health benefits. Our herbs are 'naked', with no added flavours or oils.

Culinary Herbs: Herbs are an essential ingredient of Mediterranean cooking, not only for their delicious flavour but for their health enhancing benefits which are well known and researched.
Our own special blend of dried thyme, rosemary, orenago, basil, winter savoury and calendula is a must for grilling, barbecuing and marinating meats - adding flavour as well as a splash of colour to any dish.
---