La Robeline Cider Company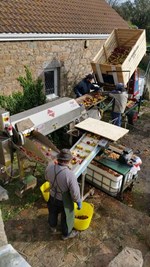 ---
Richard learned the art of cider making in Normandy where he also found a very neglected and ancient cider press in need of complete restoration. The press was brought over to Jersey and eventually ensconced in an old pig sty in the West of the Island and La Robeline Cider Company was born!
La Robeline is at the forefront of the 21st century revival of cider making and apple growing in the Island, an important part of Jersey's culture and heritage. In the 1850's cider exports to the UK averaged 150,000 gallons a year, about one tenth of the annual local production and cider remained a part of daily life as the most common mealtime drink, especially on farms, up to the Second World War.

Come every autumn, there are apples to harvest from more than two dozen orchards around the Island before the back-breaking process of pressing the fruit to extract the juice to make their "Cidre dé Jèrri" begins. As it takes about 20 apples to make one bottle of cider, that's a lot of apples! It's a complicated process, monitoring the resultant juice over the following six months or so to make sure that it develops into the slightly sparkling, Normandy style "cidre bouché", especially as the cider is made from nothing but apples!

"Sylvie", a tried and tested wood-burning mobile artisan still that was used for 60 years to make Calvados in Normandy, joined the ancient French cider press quite a few years ago and is used to distill a batch of cider each year. The resultant Eau De Vie (an "apple schnapps") is placed in oak barrels to mature for a minimum of 3 years, taking on a slight oaky flavour from the wood and deepening from a clear liquid to a golden amber.

Several barrels containing the L'Esprit dé Jèrri have been quietly maturing in Richard's bonded store for a few number of years and now "La Pomm'thie" – an exceptionally smooth and deliciously apple-y calva - can be found at Corkscrew in the Central Market, various farm shops and on The Cider Shack at the various events which Sarah and Richard attend each year. There are two to choose from, the "Prestige" which is over 10 years old and the "Vieux" which is over 5 years old. Follow them on Facebook – La Robeline Cider and Sausages – to keep up to date with the events they will be attending.
---