La Chasse Produce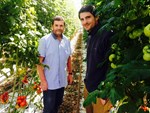 ---
Father and son, Paul and JP Blake, founded La Chasse Produce Ltd in 2011.
Paul has been growing produce on a commercial scale for the past 30 years, while JP has worked in the packing and distribution side of the industry since the turn of the Millennium.

Together, they grow indoor tomatoes, peppers, cucumbers, aubergines, chilli peppers and courgettes for customers specifically in the local market who really appreciate the effort the Blakes put into growing top quality produce. La Chasse produce can be bought from Waitrose in the Channel Islands, Homefield Growers, Lucas Brothers, Classic Farmshop Holme Grown, Fungi Delecti and Simon's fruit and veg stall in St Helier's Victorian Central Market.

A typical day at La Chasse involves an early start, checking the crops and ensuring that the fruit meets their exacting standards. Then it's time to get on with grading and packing the produce ready for delivery either the same day - or the following morning - to the various outlets and wholesalers around the Island.

Computers carefully monitor the greenhouse environment and small adjustments are constantly being made to ensure the ideal growing conditions are maintained.

Whenever possible the Blakes use biological controls rather than pesticides. This is carried out by introducing insects to the glasshouses that are beneficial for the crops, thereby helping to protect the plants from other destructive bugs that can damage and harm crops. By doing this they reduce the need to use pesticides and sprays while still growing a good healthy crop.

La Chasse produce is available from late February through till early December.
---