Rocque Paper Scissors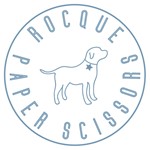 ---
Born and raised in Boston, USA, Kat Read of Rocque Paper Scissors, fell in love with Jersey at La Rocque on a misty Autumn night in 2012.
Drawing on the joy and energy of her young family, Kat creates bespoke paper cut prints and gifts that celebrate life.

Driven to support animal conservation efforts, every item is designed so it can be treasured for years and is made out of sustainable, recycled and local materials whenever possible. 10% of the retail price of every item goes to animal conservation.
---