Julie Bolton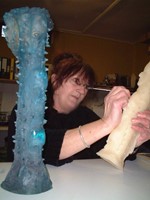 ---
Julie Bolton (BA Hons) has been a designer/glass artist since 2001 when she completed a 3D Art/design degree in Glass and Printmaking at Wolverhampton University.
Prior to embarking on the 3 year degree course she completed a Foundation Course in Art and Design at Highlands College, Jersey.
Julie has always loved the fluidity of colour in glass with it's light reflecting and refracting properties and since setting up her studio has been commissioned to make work for several clients in the UK and Island residents including making the 'cast glass' used in the gates at Millbrook Manor.

Her specialist area is 'lost wax casting' or 'Cire Perdue' to give it it's correct title, this was the way of working by L'alique the famous French glass designer who made the sculptures at the Glass Church at Millbrook.

She also makes unique 'one off 'pieces of fused glass some of which can be seen at Coopers Coffee Shop at Castle Quay.
---