Joe Freire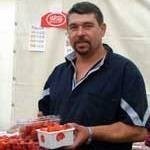 Joe Freire
Paeony Cottage,
Les Charrieres Nicolle,
St Lawrence
JE3 1HJ
Mobile: 07797 711 581
Email: personandfreire@gmail.com

---
If there is one fruit and one vegetable that sum up the best of fresh seasonal homegrown British produce then it is the strawberry and asparagus.
Jersey, at the southern most extremity of the inhabited British Isles, is blessed to have both of these summer favourites, picked fresh every day throughout the natural growing seasons. And nothing tastes better than fresh strawberries and asparagus, eaten within hours of being picked.

Genuine Jersey member Joe Freire, has been growing strawberries for more than 30 years and is the Island 's largest commercial grower of the summer fruit. He supplies the Island's Co-op supermarkets, the Central Market, wholesalers and farm shops from May to October with a range of varieties. And from his roadside stall in St Lawrence.

He also grows raspberries, rhubarb, peonies and anemones.

Joe arrived in the Island from Madeira in 1981. Three years later he went to work for a strawberry and flower grower in St Lawrence, and by 1986 he was farming the land by himself.

Today Joe produces 80 to 100 tons of strawberries a year, depending on the weather and duration of the growing season, over ten to 15 vergées outside and 12,000 square feet under glass and in poly tunnels.

During the growing season Joe employs14 additional staff to the two full-time and his son Raphael, who having trained as a mechanic, has worked alongside his father for two years.
---