Jersey Turbot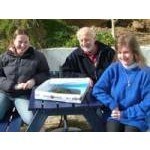 Tricia Cowburn
Les Viviers de St Catherine
St Martin
Jersey
JE3 6DD
Telephone: 01534 868836
Email: sansnom@localdial.com

---
Wild turbot is hard to come by off the coasts of Jersey, so Dave Cowburn and his family have remedied this deficiency with their successful turbot farm, accommodated in former German war tunnels at St Catherine's Bay.
The old gun emplacement houses about 6,500 turbot at any one time in roomy tanks filled with fresh sea water, from tiny 50p-sized fish weighing five grams to four-year-old turbot weighing about two to three pounds.

Fish-farmed product can be less tasty and distinguishable by the thick layer of fat between skin and meat which occurs because the fish are fed growth supplements. However, in the case of Jersey Turbot, there is no more fat than in wild fish, and the quality of their product has been attested by celebrity chef Marco-Pierre White, not known for his commendation of fish farming.

The sea water in which the fish live is totally 'natural' – there is no filtration and no medication or chemicals are added. They are fed on specially prepared and imported organic fish food, and the rearing process could be described justifiably as '99% organic'.

The tiny turbot juveniles are imported from the 'France Turbot' company in Noirmoutier in western France. It takes 3½ years for them to grow to a marketable weight: the 2-3lb weight is the most popular, because the bigger a fish grows, the greater the proportion of bone to flesh.

By far the biggest customer for the turbot is the fishmonger Battrick's Seafoods, which sells on the turbot to catering outlets in the Island. The order is placed by phone first thing in the morning, and so the fish can be served up to restaurant diners by lunchtime – about as fresh as it is possible to be.

Private customers are also welcomed at the tunnels, but are asked to give 24 hour's notice so the fish can be prepared for collection.

Jersey Turbot is a family-run company. Dave Cowburn worked as a deep-sea trawler fisherman for many years, but changed to turbot farming because of the difficulties of the market. There are many advantages to working on land and sleeping at home every night! The grand-father of his wife, Margaret (née Bihet) was one of the many Jersey fishermen in the historic cod trade off Newfoundland. Gary Cowburn, their son, works with them, and so does their daughter, 'Tricia – and their grand-daughter, Bryony (6) is also an enthusiastic helper – she knows all the sizes of fish and has given tours of the tunnels to her school-class!

This close-knit family-run company produces a delicious Genuine Jersey product.
---