Jersey Sea Salt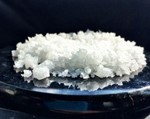 ---
David Miles and Matthew Taylor create Jersey Sea Salt and are the most southerly solar salt producers in the British Isles. A small-scale artisan business, staying local means they can produce their sea salt in an environmentally friendly fashion, using low energy and low waste processes to turn local waters into pure salt crystals.
The only direct energy used in producing Jersey Sea Salt comes from the sun and the wind which following a period of solar evaporation creates one of civilisations oldest treasures.

Harvesting sea salt is an ancient art dating back 8,000 years. Salse is old French for salt water, so salse marais, which evolved into samares means 'salt marsh' and it is thought that salt was collected from Samares Manor right up until the 1734, however David and Matthew are the first to produce Jersey Sea Salt commercially in Jersey.

After more than a century dominated by industrial salt, stripped of minerals and with added bleaching agents, free flowing and anti-caking chemicals there is a rising trend in salt health awareness. Sea salt has been an essential item in cooking for years and with so much interest in the provenance of our food and the people who make it.

Jersey sea salt dissolves easily for cooking, pickling or baking however it is best used as a finishing salt as it enhances flavours when added to fish, meat, poultry, pastas and salads.
---