Jersey Plants Direct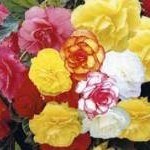 ---
Jersey Choice Limited grows and delivers top quality bedding and other plants for consumers throughout the UK. The plants are grown in Jersey and sold through the company's Island-based direct marketing arm, Jersey Plants Direct.
The company offers an extensive range of seasonal plants appropriate to the particular time of gardening year. These range from annuals like Busy Lizzies, geraniums and petunias in spring or pansies and wallflowers in the summer, to perennials such as hosta and anemone, with roses, shrubs and fruit for the cooler times of year.

Jersey Choice Limited was founded in 2003 by Tim Dunningham, who has more than 20 years' senior management experience in mail order horticulture. The company philosophy is: 'the best products and service at affordable prices'.

As an example, Jersey Plants Direct has built up a sizeable customer following with this approach. The brand offers terrific value and delivery is free on all orders. Offers are available regularly in the national press, Sunday newspaper supplements, in catalogues or from the internet at www.jerseyplantsdirect.com.

Growing and dispatch is managed by the Director of Horticulture, Peter Clark, who also has more than 20 years' experience in the industry. Peter is based at the company's nursery in the parish of St Ouen where he keeps a keen eye on quality control. The company's offices and call centre are located in St Helier.

Jersey Plants Direct Ltd is a company totally committed to quality and value, with all management, administration and, of course, growing and dispatch right here on the floral island of Jersey. Truly 100% Genuine Jersey!
---