Jersey Oak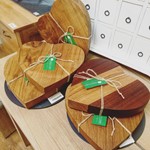 ---
Founded in 2007 Jersey Oak with values of sustainability, uniqueness and excellence Jersey Oak manufactures handcrafted sustainable furniture a stone's throw from the sea in Grouville. In addition to a broad range of indoor and outdoor furniture, fixtures and fittings and household accessories Jersey Oak also provides bespoke joinery solutions including flooring and hardwood refurbishment with unparalleled commitment to customer service.
Jersey Oak designs are purchased off-the-shelf or privately commissioned (bespoke) to accommodate all tastes and budgets.

Jersey Oak can trace all our wood to the moment of its planting – a unique relationship with our source materials reflected in the authenticity and integrity of our designs and workmanship. We are also committed to using reclaimed and salvaged materials wherever possible – crafting lasting beauty and utility from otherwise forgotten resources.

Each of our items is one-of-a-kind and produced without harmful chemicals using practices which limit environmental pollution and wastage.

Jersey Oak maintains strong links with the local community. We have received a Platinum Development Award from Skills Jersey in recognition for our work offering trainee programmes, apprenticeships and work experience to young people, students and those with special needs. Environmentally-conscious we offset our carbon footprint through Durrell and are accredited as a member of the Jersey Eco-Active Business Group.

Jersey Oak also proudly sells to trade customers. We retail oak/hardwood elements such as floorboards, timbers and care products with exclusive trade deals.

We have recently launched a new website (www.jerseyoak.com/shop) which in addition to stocking the full range of our exciting and innovative products will feature designs by hand-picked international retailers and all the supplies required to keep your Jersey Oak pristine for future generations.

Many of our products make the perfect gift for special occasions and encompass a broad spectrum of styles, tastes and budgets. Whether kitting out a new home, buying friends and family that perfect birthday or anniversary gift or commissioning a signature piece to define your home and family for years to come – get it done the Jersey Oak way.

---