Jersey Kitchen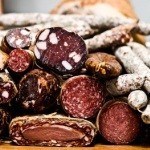 ---
We are a small artisan charcuterie company specialising in making hand-crafted charcuterie of the highest quality using locally raised Genuine Jersey pork & beef.
Our charcuterie combine the highest quality ingredients - local meat, the finest sea salt & top quality herbs & spices - with the rarest of all ingredients: time.

Made using old-world traditional recipes & by cold curing methods, our products can take up to 10 times longer to produce than more modern, mass produced charcuterie.

Why do we sacrifice efficiency for taste? Because we love great charcuterie, we hold to traditional values & we love what we do with a passion.
---