Victoria's Jersey Island Sea Glass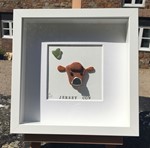 ---
Jersey Island Sea Glass, launched in January 2017, creates artwork and jewellery using sea glass and pebbles collected from Jersey's beaches. Sea glass and pebbles are unique souvenirs which have been tumbled and polished by the oceans forces for many years or even decades.
Victoria's fascination and collection of sea glass and pebbles started many years ago, but it was only recently that she discovered her passion for creating art and jewellery using her precious collection.

Sea glass fragments come in the most amazing rainbow of colours, from frosty white and pale blue to blazing red and orange and are the product of man-made debris tumbled by the forces of nature. Eventually ending up on beaches in Jersey and all over the world, each piece tells its own story of a journey through the oceans. Jersey pebbles come in a fantastic array of colours and textures reflecting the igneous, metamorphic and sedimentary rocks of the island.

Each pebble and piece of sea glass tells its own story of a journey through the oceans and this makes it a wonderful gift or souvenir of your stay on the Island. Just like her sea glass collection, no two pieces of Victoria's jewellery or art are the same - each item being lovingly crafted using glass fragments and pebbles selected by Victoria.

Victoria is happy to take commissions for her art work.
---