Jersey Hemp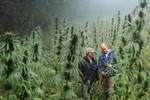 ---
Premium British-grown CBD oil you can trust. Made from organically-grown hemp, right here in Jersey.
Each of Jersey Hemp's CBD products is crafted with care and precision to create a high quality nutritional supplement, designed to support your wellbeing. We're committed to making sure that each serving lives up to our promise: 100% pure and natural quality from plant to product.

Jersey Hemp was started by people who wanted to help everyone achieve a better quality of life. That's why our CBD oils and processes are the best they can be. Here are six reasons to choose Jersey Hemp CBD:

01 - Organically-grown hemp and CBD produced to the highest industry standards and mixed with our cold-pressed hempseed oil.

02 - Every part of our cultivation process is handled with care, naturally drying our hemp to avoid pesticides, chemical fertilisers or heavy metals.

03 - Efficient and natural plant-based ethanol extraction to ensure a broader spectrum of terpenes and flavonoids, and industry gold standard HPLC techniques to refine and purify.

04 - As well as our own rigorous testing, every batch of CBD is analysed independently by a third-party laboratory. We publish all our batch results to assure our customers of the quality of our CBD oils.

05 - Jersey's southerly positioning, high sunshine quotient and soil enriched with marine minerals all combine to create the perfect terroir for high quality hemp plants.

06 - Our circular ecosystem contributes to improved agricultural processes, cleaner air and reduced carbon across Jersey, making a positive difference for everyone.

When you choose Jersey Hemp, you're choosing the leading British-grown CBD made from organic hemp, expertly extracted and verified by independent laboratory tests. Our CBD, CBG and hemp products are good by nature, gluten-free, vegan and chemical-free and contain no artificial colours, flavours or preservatives. Simply high quality Jersey-made CBD you can trust, with free delivery straight to your door.
---