Jersey Fine Tea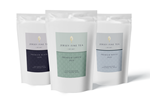 ---
Jersey Fine Tea is a boutique producer of single-estate Jersey teas from the Camellia sinensis tea bush. The tea is sustainably grown, hand picked and prepared in small batches to elicit nuanced aromas and flavours that reflect the unique island terroir.
The range changes depending on the season, but at its core is whole-leaf white, green and black teas. Sold loose and super fresh they are available to buy on www.jerseyfinetea.com and from a number of local suppliers.

Part of the mission at Jersey Fine Tea is simply to produce premium quality tea. This is made possible by the climate and the promising conditions in the three specially selected tea gardens which foster healthy leaf growth, as well as careful husbandry and processing.

Jersey's gentle marine climate, which is relatively cool for the tea bush, enhances quality by slowing the growth of the plant and encouraging its roots to reach deeply for the natural nutrients that enhance the finished tea.

To maintain the natural potential of the leaves, only the tender and nutritious new leaves and buds are plucked by hand, which avoids unnecessary bruising of the leaves and any deterioration of quality. Jersey Fine Tea's experienced and passionate teamaker then prepares the leaves in small batches to suit the nature of the pluck.

The Tea

All the teas are characterised by fine aromatics and flavours, low bitterness, a smooth mouthfeel and good length. Tea expert Will Battle comments on Jersey Fine Tea in the second edition of the much revered The World Tea Encyclopaedia:

"The teas are beautifully-made and stand up very well to their peers from traditional origins. The sublime Pai Mu Tan style white tea carries seductive violet perfumed notes, a wok-fired green is full of sappy sweetness recalling the green Mao Jian teas of Hunan, whilst the black balances elements of Keemun perfume with a malty note."

Whole Leaves

The leaves in Jersey Fine Tea are carefully processed to maintain their whole shape and retain the essential oils and flavour that would dissipate if broken. Brewed, they give a mellow and subtle cup of tea that doesn't need milk, which would mask the delicate flavours. This contrasts with teabag tea, where the leaves are chopped up for a quick strong brew that is complemented by milk and sugar, which softens the bitter flavours.

Whole-leaf tea takes a little longer to brew and release its fine flavours, but it's a welcome and mindful pause before enjoying a wonderful cup of very special tea.

Find out more online at www.jerseyfinetea.com where you can shop the range and find other stockists.
---