Jersey Dairy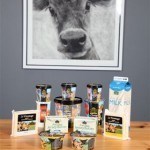 ---
The Jersey breed of dairy cow originates from the Island and is quite distinct from all other breeds. Renowned for its beauty, ease of management and natural ability to produce rich creamy milk, the Jersey cow is a product of the Island, its soil and climate, the people and their history.
Jersey milk is prized among dairy farmers everywhere because of its superior properties, with herds to be found in the UK and around the world. There even exists an international organisation - The World Jersey Cattle Bureau - comprising national Jersey cattle associations, individuals and other organisations dedicated to this fastest-growing breed of dairy cow.

Every drop of milk supplied to Jersey Dairy continues to be produced exclusively by pure-breed Jerseys which can trace the purity of lineage back to 1763 to the establishment of a ban on the cross breeding of milking dairy cattle in the Island.

The Jersey produces more milk per pound of bodyweight than any other breed. Milk produced by Jerseys contains on average up to 20% more protein and calcium, 25% more butterfat and a higher concentration of minerals and vitamins than that from other breeds.

The milk produced by the pedigree Jersey cows in the Island enables Jersey Dairy to create a wide range of popular, quality products including milk, luxury scooping and soft-mix ice cream, yoghurts, creams, cheese, crème fraîche, butter, long life UHT milk, creams and milkshakes - some of which are exported to the UK, Ireland, Europe, China, Hong Kong, India and Japan.

Jersey Dairy is accredited to ISO 9001:2008, BRC Global Standard for Food Safety Grade A. The Dairy also holds Soil Association accreditation for its organic products.

Jersey Dairy is a voluntary cooperative of 23 dairy farmers. As well as supplying Islanders with healthy and delicious milk, the Dairy is committed to developing and marketing products, both locally and farther afield.
---