Jerriaise D'or Goat Farm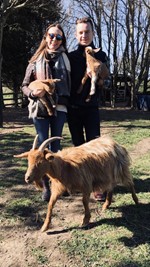 ---
Tim and Marianne of Jerriaise d'Or Goat Farm in St Lawrence are producers of award-winning artisan goats' cheeses.
The farm started in 2010 when the Golden Guernsey goats were reintroduced into Jersey and the process of organically increasing the size of the herd began. There is a history of goat herds in Jersey that mainly died out in the 2nd World War and many locals have fond memories of goats and particularly Golden Guernseys being kept by their families in their youth.

The Golden Guernseys are still a rare breed and the welfare of their goats is paramount to Tim and Marianne with the kids remaining with their Mums until weaned.

Golden Guernseys are a relatively low yield dairy goat but the milk is high quality, which is creamy but fresh tasting. There is an increasing demand for untreated dairy produce and Jerriaise d'Or's hand crafted artisan products are unique. The milk is remains raw and is currently used to produce a fresh cheese and a mature cheese. The mature cheese is a little special and is called Fluffy Fuhka! It improves with age to produce a more complex and fuller flavour and last year received a coveted Super Gold award at the World Cheese Awards in Bergamo. It also has a 2 star rating from the Great Taste Awards 2019.

The cheeses are currently available from Relish delicatessen in St Helier, from a road side honesty box at the farm and from La Robeline Cider Co.
---