Harriet Docker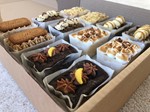 ---
Harriet Docker is new to the island, bringing with her the award-winning Little Loaves business which delivers delicious cakes perfectly portioned for one person.
Harriet's little loaves save on wastage and packaging and are made using the freshest Jersey ingredients available. The talented trained patisserie chef said: "When I was a visitor to the island I always searched out the Genuine Jersey hallmark as I like to shop local.

Having now moved here it was important that my cakes also bore this symbol as a sign that they have been through stringent checks and are of local provenance. I'm excited to see how the island will influence my flavours and cake designs.
---